Description
Classica Collection
Meet our most popular garage door collection.
Looks can be deceiving. From a distance, you see wood. Up close, it's durable, low-maintenance steel. Authentic carriage house looks, modern functionality to complement your home's exterior.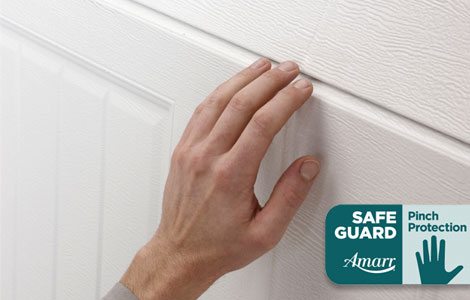 Safe Guard Pinch Protection
Built with the Amarr Safe Guard System that features patented center and end hinges, exclusive safety bottom brackets and uniquely-designed pinch protection sections to enhance overall safety for homeowners.
These garage doors are designed to reduce the risk of serious hand and finger injuries.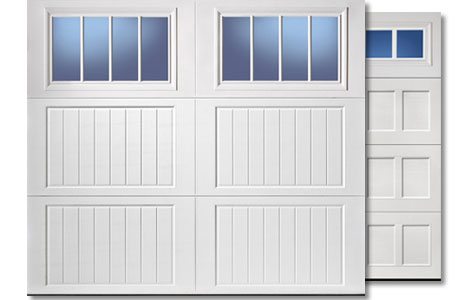 Larger Sized Windows
With only 3-sections to build this garage door in standard heights, the innovative Classica garage doors are the first-of-its-kind to offer more vertical and authentic carriage house door design.
Now with larger sized windows that provide more natural light into the garage.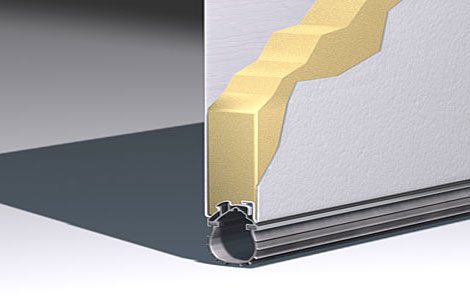 High R-Value
A high R-value means the garage door insulates well and has increased thermal efficiency.
When comparing R-values among garage door manufacturers, be sure to look for statements that mention Calculated R-Value based on the Door and Access System Manufacturer's Association (DASMA) TDS-163.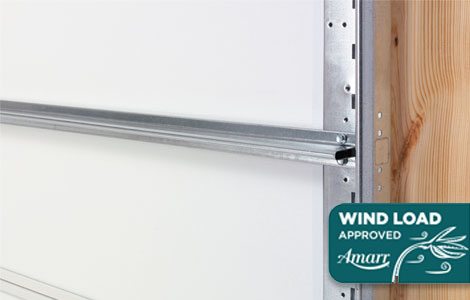 Wind Load Garage Doors
Wind load doors are built specifically to withstand specific high-wind pressures with an interior wind load reinforcement system.
Wind load reinforcement can be added to practically all Amarr doors to meet local building codes.  Simply choose the door style that is right for you and your local Amarr garage door dealer/installer will confirm what wind load door is required in your area.
CONSTRUCTION
1000
Single-Layer: Steel Get value and durability with a Classica 1000 single-layer door. These heavy-duty steel doors are durable, reliable, and low maintenance.

Heavy-Duty Exterior Steel
Durable, Reliable, Low Maintenance

2000
Double-Layer: Steel Insulation A Classica 2000 double-layer door provides durable, low maintenance features, plus a layer of vinyl-coated insulation for increased thermal properties and quieter operation.

Heavy-Duty Exterior Steel
Durable, Reliable, Low Maintenance
Environmentally Safe Polystyrene Thermal Insulation with Vinyl Backing
Energy Efficient
Quiet Operation

3000
Triple-Layer: Steel Insulation Steel For the toughest, most energy-efficient steel door, a Classica 3000 triple-layer door includes the ultimate in thermal properties, plus a layer of steel for a finished interior look and added durability.

Heavy-Duty Exterior and Interior Steel
Durable, Reliable, Low Maintenance
Environmentally Safe Polyurethane Thermal Insulation
Superior Energy Efficiency
Extra Quiet Operation

WARRANTY
SPECIFICATIONS

Classica
1000
Classica
2000
Classica
3000
Panel Designs
Carriage House
6 Designs
6 Designs
6 Designs
Insulation1
Polystyrene
Polyurethane
R-value*
6.84
13.35
Door Thickness
2″
2″
2″
Window Glass Options
1/8″ Tempered Double Strength
Insulated Glass
Obscure
Windload Available2
Warranty
Paint Finish3
Lifetime
Lifetime
Lifetime
Workmanship/Hardware3
3 Years
5 Years
Lifetime

* Calculated door section R-value is in accordance with DASMA TDS-163.

1 All insulation has passed fire safety testing.
2 It is your responsibility to make sure your garage door meets local building codes.
3 For complete warranty details, visit amarr.com or contact your local Amarr dealer.

COMPARE PRODUCTS